Bandhavgarh lies in the heart of Central India, in the north east of Madhya Pradesh. It is a lush jungle, full of waterfalls and rivulets that cascade across the forest floor. Thick bamboo groves are interspersed by groves of Sal and Mahua trees whose scent mingles with the jungle's earthy fragrance.
Sprawling Banyan & Peepul trees are interspersed by the stark branches of the Flame of the Forest – a sight to behold in the summer, when their leaves fall off & their deep orange flowers are in bloom. Bandhavgarh is a blend of many different types of vegetation including tropical moist and tropical dry deciduous forest. As a result, it has become a breeding ground for over 600 species of flowering plants. The biodiversity here is incredible, with over 35 species of mammals, over 250 species of birds, over 75 species of butterflies, and of course, the ultimate predator – the tiger.
A Bygone era…
Bandhavgarh is a sacred piece of land, for humans and animals alike.
It's named for the fortress that crowns its craggy cliffs Bandhav [brother] + garh [fort]. According to ancient Hindu legend, it was named Bandhavgarh when Lord Rama put his brother Laxman in charge of the fortress.
A supine statue of Lord Vishnu lies at the fortress & guards over the forest below. Currently the vast majority of the fortress grounds are closed to tourists, however the area known as Shesh Shaiyya around the statue of Lord Vishnu is still accessible. This statue is over a thousand years old. A small trickle of water emerges from a toe of the statue, which turns into a rivulet named "Charan Ganga". This rivulet crosses the famous Chakradhara meadow at the base of the Bandhavgarh hill, & eventually flows out of the park, but not before quenching the thirst of the forest and the denizens.
It served as the hunting grounds for the famed Maharajas of Rewa, who offered their allegiance to the Mughal Empire. Among other lavish gifts of good will; the legendary singer Tansen and one of the wisest men of Emperor Akbar's court, Birbal, were presented to the Mughal Emperor.
In the 1990s, Bandhavgarh was fortunate to have tigers,which had very strong genes, mate with one another and reproduce prolifically. Their cubs grew up to become Bandhavgarh's star felines, because they were habituated to vehicles, domesticated elephants and people, and were not as shy as some of their predecessors. They later went on to become the subjects of several wonderful documentary films.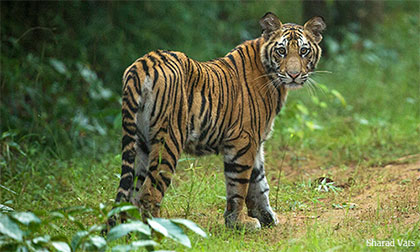 Quick Facts
Bandhavgarh National Park is spread across the Vindhya range, near the North Eastern Border of Madhya Pradesh,in Central India.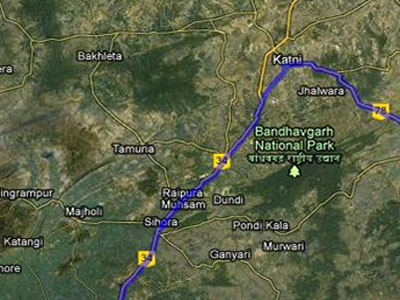 Topography: A core zone of approximately 448 sq kms and a buffer zone of approximately 550 sq kms spread across the dense forest.
In Season: The park is open from 1st Oct to 30th June each year. It closes during the monsoon season from 1st July until 30th Sep.
Popular Sightings:
Frequently sighted: lorem upsum dolor
Ocassionally sighted: lorem upsum dolor
Rarely sighted: lorem upsum dolor
Extremely rarely sighted: lorem upsum dolor
Tigris trivia
Bandhavgarh was once the hunting grounds of the Maharajas of Rewa and the first white tiger was found here in 1951!
Tigris ratings
Accessibility
Number of tourists
Availability of safari
Accomodation options
Guides and Forest staff
Sighting frequency (main attraction)
Popularity:
From mid-December to mid-February, Bandhavgarh can be very chilly. The early morning game drives in particular can be very cold, thanks to low temperatures, moisture in the air and a strong wind chill factor in an open jeep. Temperatures often dip to zero degrees Celsius (i.e. in the early 20s in Fahrenheit). We recommend that you bring multiple layers, with long sleeves, a warm jacket, hat, scarf and gloves.
As the weather warms up, it can become extremely hot. Peak summer months can experience temperatures as high as 46 degrees centigrade (over 100 degrees Fahrenheit). We recommend carrying clothing that is cooling and protects you from the sun. In June, we recommend that you carry light protection for yourself & your photography or film equipment from possible early rain showers & thunderstorms. The rains do cool the temperature down considerably & can bring temperatures down by 10-15 degrees after a single shower.
Tiger Tips
Tourists are allowed to visit three ranges in Bandhavgarh, called Tala, Magdhi and Khitauli. The number of permits issued for each zone is highly limited, and need to be booked 120 days prior to the date of your game drive. In order to ensure that we can optimize your time best, we recommend that you book your tour at least five months or more in advance of your travel date. This allows us to secure permits for you to enter the best possible zones for viewing Tigers. Sightings are never guaranteed, but we do get frequent inputs from our experienced drivers & naturalists on which zones are experiencing more tiger views at a given point in time.
Most of the resorts and lodges are situated near the entrance to Tala zone. Magdhi and Khitauliare short drive of about 7 km away from Tala village, while the buffer zones range from 15 – 25 km away from Tala village.
Even though the core zones are closed on Wednesday afternoons and during the Holi and Diwali festival days, the buffer zones are available for safaris throughout the year. Big cats are often present in the buffer zones, but they are not tracked regularly. We always recommend that you include at least 3-4 nights in Bandhavgarh, & do at least one game drive in the buffer zone, as very few tourist visit the buffer areas and it offers total exclusivity from the rest of the crowd.
For more Tigris Tips, check out the Tigris Blog.